---
Andrea Maynard (she/her) / Presenter
---
Andrea Maynard (she/her) shows
---
Born in Arbroath in Angus I am 57 years and I came out as Trans in 2017, I am presenting full time and have done so since Jan 2019.
I am an IT Service Desk Analyst for a government department in Somerset and enjoy my job immensely. I have the full support of my employer and I consider myself to be lucky to have such an inclusive employer. I enjoy problem solving and dealing with the customers we have. Being out has helped me to be a much happier and outgoing person which has reflected in my work.
I enjoy presenting for Trans Radio UK and enjoy the shows I am involved in, they mean a great deal to me on a personal level. Being from Scotland I have a great affinity with Scottish bands and artists. This has lead to a love of Celtic music and bands from the fair isle, both the Republic of Eire and Northern Ireland. My love of dancing at an early age introduced me to Northern Soul and I have enjoyed the music so much I wanted to introduce this to those who may not know about it.
I have a very eclectic taste in music which covers all genres and styles from R&B through to Bubblegum Pop, Classical to Rock. There is no music that is out of bounds, if it is music it is acceptable to listen to at least once.
I enjoy creating graphics work from video to GIFs and enjoy getting lost in a project which produces a product which can be appreciated by lots of people. I suppose that is part of being a creative Aquarian.
On a personal note, I am a lover of animals and I am against any form of cruelty to animals. As are my amazing nieces who are involved in various ways in trying to preserve our beautiful planet and the amazing creatures that roam, swim or fly. My favourite animal is cats in particular tigers with the Sumatran tiger being my favourite because of the emerald green eyes, but I love all felines.
Andrea
Andrea also is our New Music Manager and deals with all the incoming music we receive. If you have a track you want to submit, email it to [email protected].
Andrea joined TRUK in May 2020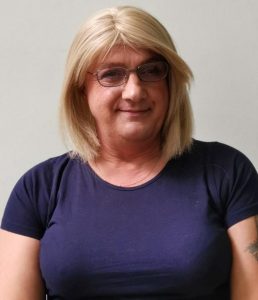 ---