---
---
DJ Suzi B (she/her) shows
---
REMEMBERING DJ SUZI B 23 October 1966- 27 October 2023
Suzi was a loved member of our TRUK family.
She brought all her Ayia Napa and club DJ experience to our airwaves. Although she had never done radio before she became a great radio as well as club DJ an represented us at several Pride and LGBT+ events.
All our TRUK family loved her and she coached some of them on her brilliant set of skills. She was never happier than being able to do her shows. She loved TRUK and TRUK loved her.
She will be greatly missed.
Lucy and Avril
===================================================================================================================================================================================================
I got into music when at 6 years old I was given an electric fan assisted organ and within a few weeks I had mastered it, seems like I was a natural. I used to hide in a room at home and listen to my dad's reel to reel music tapes which were old jazz and classical music. When I was visiting my grandparents, I used to listen to a small wireless in bed with plug in earphones (not like you have today) and listened to everything and anything but especially The Goon Show but I really had a passion for music.
In 1987 I turned 21 and decided to go to France. I travelled across the country and ended up at the Cannes film festival where I managed to get work with MGM where I dressed as Alvin the Chipmunk and wore a mechanical outfit which also did the chipmunk voice! I worked for Frans McGree (Hill Street Blues) and did promotion work for Tom Selleck, Bob Hoskins, Madonna & Michael Caine… all in Cannes.
After a while I came back to UK where I worked as head bar person in a bar called Whistle Stop in Sutton. I could afford designer labels, had long hair and was a bit flash so people called me George after George Michael.
I started getting into vinyl when I used my dad's twin decks at weekends where I started mixing and got into old school acid house and slowly progressed from that to rave, happy hardcore, techno, euro dance and all the big club and underground music. I then started DJing all over the place, played in forests and warehouses etc, it was all the illegal raves….
By this time, I had a family and owned a holiday property in Cyprus for family holidays where we all used to go to. One time, all the family went there for the 6 weeks holiday and as they were leaving, I rocked up with a friend but unfortunately had a massive quad bike crash on the first night. I spent 10 days in a coma and was airlifted back to UK and spent 4 years in hospital trying to recover. When I eventually could leave the family decided that they would move with me to Cyprus, as it was felt it would be better for my health.
I was recovering and back on my feet and within a few months got in with One Stop Entertainment, the biggest entertainment company in Cyprus (still are) and started DJing full time, 7 nights a week, beaches, hotel, pubs, clubs, weddings etc.
I worked at Nissi Beach and Adams Beach hotels which are the main Ayia Napa hotels for clubbers. I spent 16 years in Cyprus working from Ayia Napa to Pathos, from Larnica to Nicosia and was a guest DJ at Car Wash and was also one of the DJs at Cocoa Bar, Protaras when Geordie Shores was filmed there a few years ago
I came back to UK in Feb 2021 but really missed DJing. A friend mentioned about TRUK and here I am today. I am excited to be part of this wonderful family.
DJ Suzi B joined TRUK in December 2021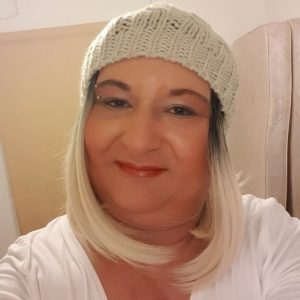 ---