---
This page will be regularly updated with all the latest news from TRUK and the community.
As you can see, we have a live 'Community News' feed from Pink News so you can keep up to date with all the latest news, as it happens!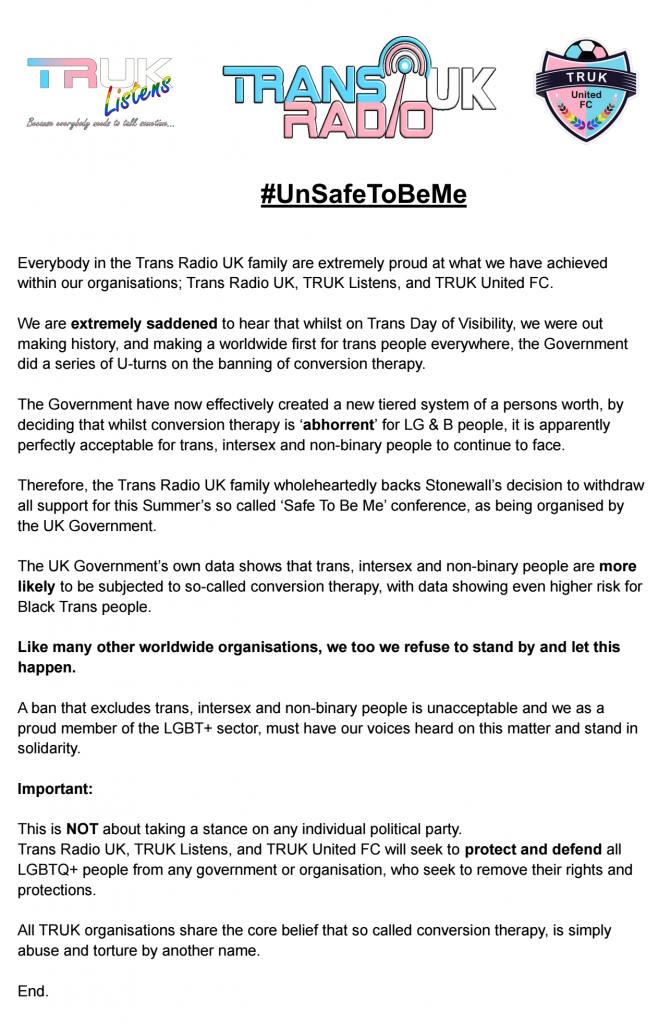 4th April 2022
For immediate release: Our statement regarding todays news that Stonewall (and other organisations) have withdrawn from the #SafeToBeMe2022 conference.

Full statement text below.
4th April 2022: Statement regarding Stonewall and others withdrawing from the #SafeToBeMe2022 conference

Everybody in the Trans Radio UK family are extremely proud at what we have achieved within our organisations; Trans Radio UK, TRUK Listens, and TRUK United FC.

We are extremely saddened to hear that whilst on Trans Day of Visibility, we were out
making history, and making a worldwide first for trans people everywhere, the Government did a series of U-turns on the banning of conversion therapy.

The Government have now effectively created a new tiered system of a persons worth, by deciding that whilst conversion therapy is 'abhorrent' for LG & B people, it is apparently perfectly acceptable for trans, intersex and non-binary people to continue to face.

Therefore, the Trans Radio UK family wholeheartedly backs Stonewall's decision to withdraw all support for this Summer's so called 'Safe To Be Me' conference, as being organised by the UK Government.
The UK Government's own data shows that trans, intersex and non-binary people are more likely to be subjected to so-called conversion therapy, with data showing even higher risk for Black Trans people.

Like many other worldwide organisations, we too we refuse to stand by and let this happen.

A ban that excludes trans, intersex and non-binary people is unacceptable and we as a proud member of the LGBT+ sector, must have our voices heard on this matter and stand in solidarity.
Important:
This is NOT about taking a stance on any individual political party.
Trans Radio UK, TRUK Listens, and TRUK United FC will seek to protect and defend all LGBTQ+ people from any government or organisation, who seek to remove their rights and protections.

All TRUK organisations share the core belief that so called conversion therapy, is simply abuse and torture by another name.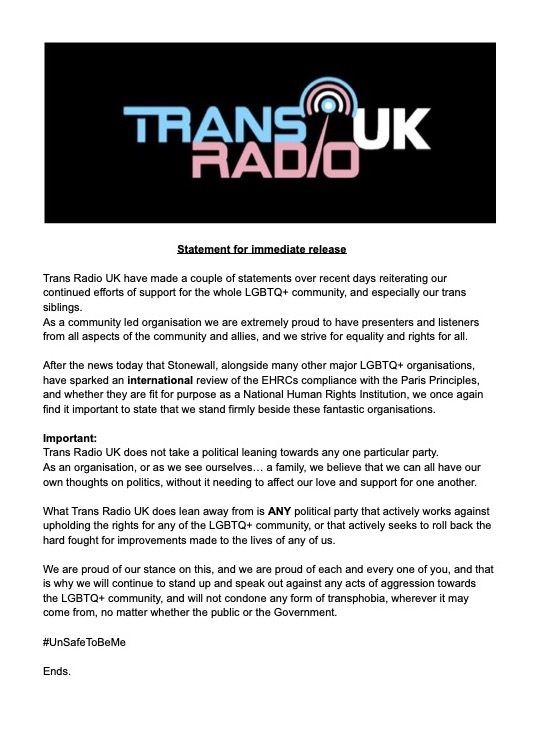 11th February 2022
For immediate release: Our statement regarding todays news that Stonewall (and other organisations) have sparked an international review on the EHRC. #UnSafeToBeMe
Listen on link below here


2nd February 2022: Statement regarding todays story in Vice News regarding the EHRC
For immediate release
Trans Radio UK are absolutely shocked and disgusted by today's story in Vice News, regarding the evidence showing that the EHRC (Equality and Human Rights Commission) has been actively working to ERASE trans rights.
To discover the true depths that the government and its associated governing bodies have gone to in order to harm and roll back trans rights and protections, is truly unbelievable.
We would like to offer our thanks not only to Ben Hunte and Vice News for being willing to work on and break such a big story as this, but also to the team over at Stephs Place and Twitters @mimmymum, who for a year now have been collating the evidence needed for this investigation.
We would further like to join Stephs Place in complete solidarity in demanding the following:
The immediate resignations of ALL those involved in the despicable and underhanded
behaviour, from the EHRC AND the government.
The immediate cease of all activities within the EHRC, in relation to the Equality Act 2010,
impacting on Trans peoples rights in the UK.
A FULL review Of the EHRC, its ability to practise for Human Rights, and its accreditation as a Human Rights Institution.
Finally, a replacement of the EHRC board and Chair.
We of course condemn the actions and lies of the Government and the media throughout recent years, that has allowed the disgusting behaviour as uncovered in today's Vice News article and its clear evidence.
We here at Trans Radio UK will continue to stand up for all the LGBTQ+ community, and especially our trans siblings who at the current time are experiencing such vitriol and hate.

For the community, by the community!

End


29th January 2022: Statement regarding the latest statements and activity by the EHRC (Equality and Human Rights Commission)
Trans Radio UK is a community led organisation that cares deeply about the whole LGBTQ+ community. Proud to have presenters and listeners alike from all aspects of the community and beyond, we strive for equality and rights for all.

Trans Radio UK are extremely saddened and concerned to have seen the latest harmful statements given by the EHRC. We stand firmly beside all the fantastic LGBTQ+ organisations who have also now condemned the EHRC statements. Considering the EHRCs previous history of supporting reforms to make trans lives and rights both easier and better protected, and whilst we are extremely happy to hear that they support a ban on conversion therapy on LG & B people, we are deeply shocked to hear that they now deem it suitable to include an exclusion for it to remain lawful to allow trans people to go through such an abhorrent procedure that doesn't work, and leaves people with life long devastating effects.

We are also bewildered to read that the EHRC has asked Scotland to halt progression of their much needed, and widely welcomed, reform to the GRA. The proposed reforms by Scotland simply aims to simplify an outdated process, and in no way does it confer any new rights on trans people. Nor does it change any of the existing protections in the Equality Act.

Trans Radio UK will continue to stand up and speak out against any acts of aggression towards the LGBTQ+ community, and will not condone any form of transphobia, wherever it may come from, no matter whether the public or the Government.

#UnSafeToBeMe

End.


18th January 2021: TRUK'S Got Talent: We are excited to announce that we will be running a TRUK'S Got Talent competition and are taking entries now. Whether you are a singer, a band, comedian or do something that we can play out on radio then this is for you! It's the taking part that counts and you can do that by emailing [email protected]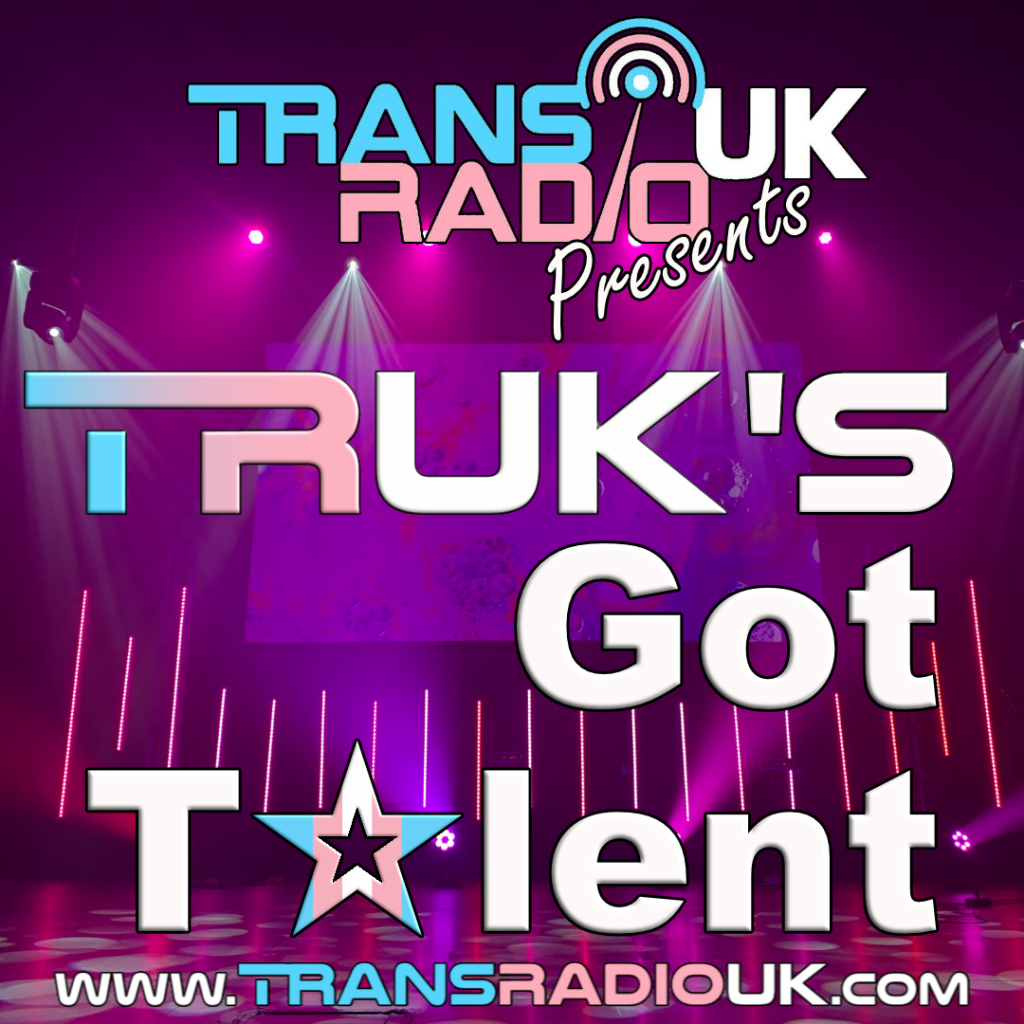 15th January 2021: TRUK United FC: We are delighted to announce that we now have a football team whom will be playing friendly & Charity matches as well as the odd tournament. Head over to our facebook page at www.facebook.com/trukunitedfc or follow us on Twitter www.twitter.com/trukunitedfc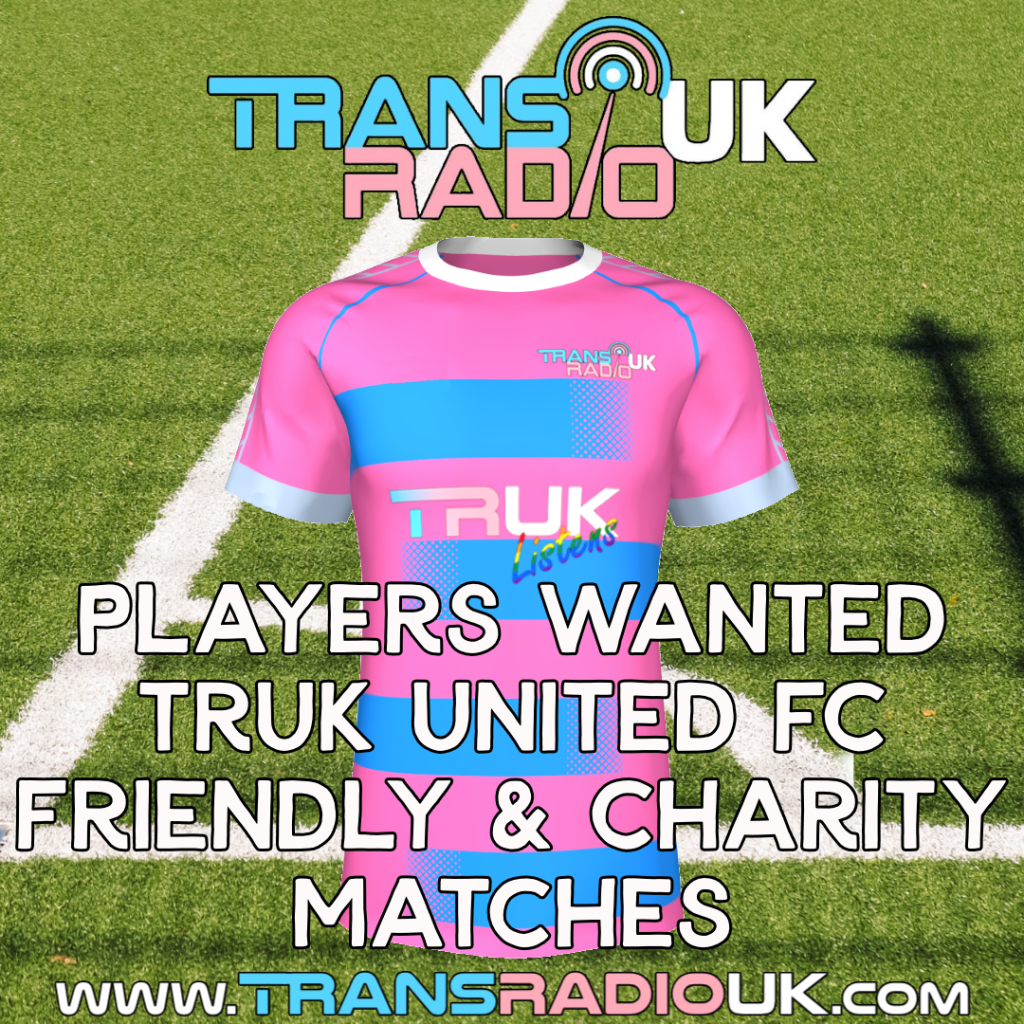 20th November 2020: Discreet Mode & Escape button: We have added a couple of features to TRUK. We now have an escape button, this can be found in the bottom right corner of any page. Pressing this will take our site to google and open google on a new tab. You can now also listen to TRUK on our discreet player which can be found at www.localnews247.co.uk
18th November 2020 Tdor Special Please join us on Friday 20th for our Tdor event. We will be both online and on air between 5-7pm. We will read out all the names of the people we have sadly lost over the last year as well as hearing a documentary.
Please sign up to the zoom event here Zoom Tdor Special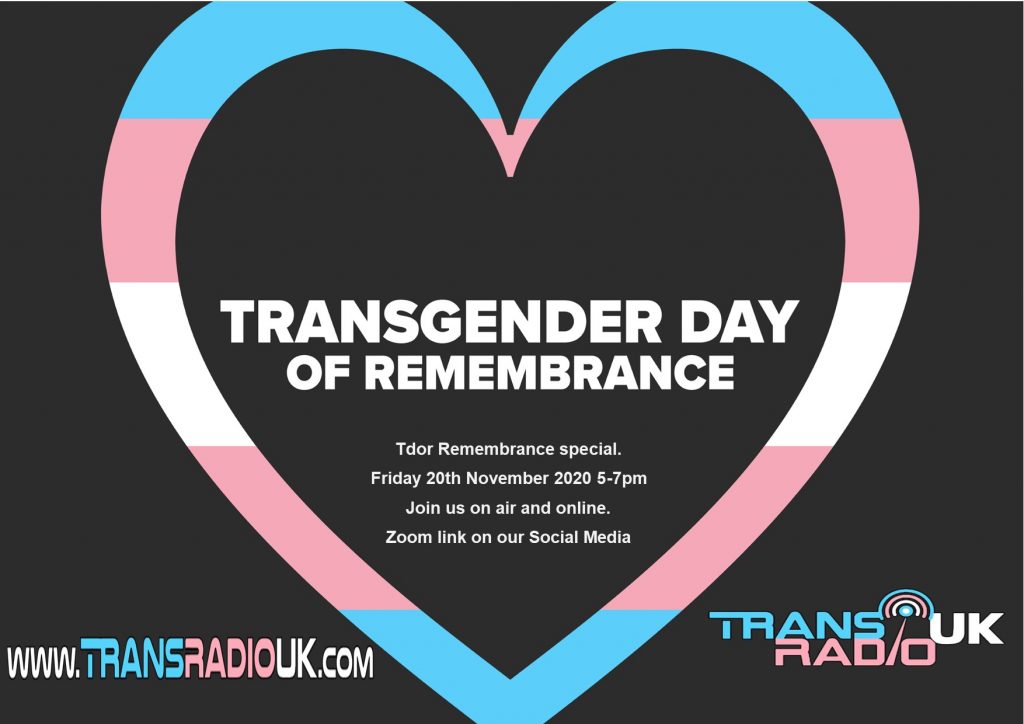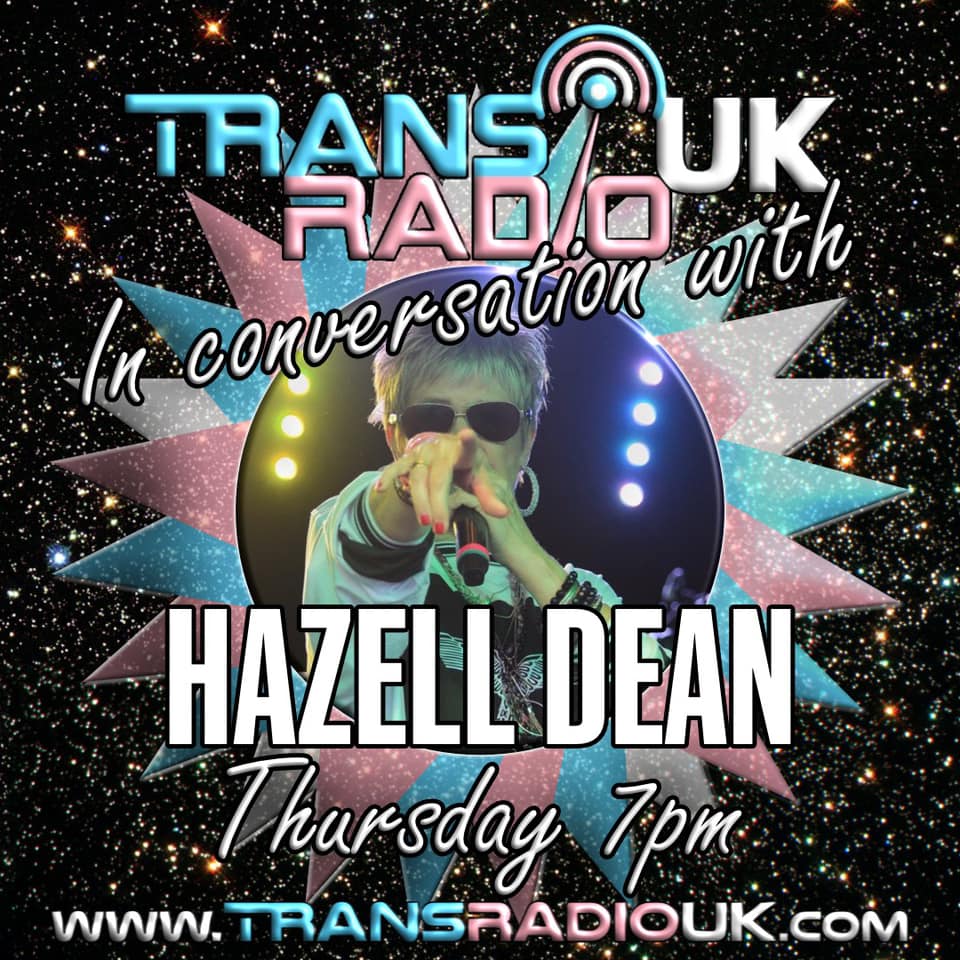 5th November 2020. Christmas Ball has been cancelled 🙁 However we have now arranged a Spring ball for 22nd May at Horwood House. If you have purchased a ticker for the Christmas ball please email [email protected]
25th October 2020 New Website. We hope you are enjoying the new website 🙂 We appreciate there are a few issues with a couple of the colours and also that the news ticker (on this page) and the chatroom the page needs refreshing before they action. We are looking into this and will hopefully have these rectified soon.
---